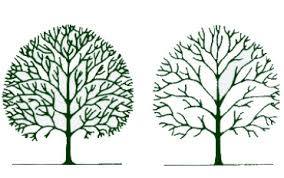 Here in Central Florida, we are fortunate to be sheltered from many strong storms and hurricanes that plague the coast.  However, we definitely have our share of hurricanes that do make it inland, and those can cause some major damage to your property if you aren't prepared.  Here is a checklist to make sure your yard is ready for hurricane season and will make it through a storm in the best shape possible.
1. Trim the Tree and Batten Down the Hatches.  Large, full trees as well as young, smaller trees are very vulnerable during a hurricane.  To protect larger trees, make sure foliage is thinned out as much as possible to allow winds to travel through the tree instead of blowing it over.  For young trees that are still staked down, make sure the stakes are driven FAR into the ground, and that all the ties are strong and in tact.  If you've recently taken the ties and stakes off of a young tree (in the last year or two) you might want to consider re-staking it if you know a severe storm or hurricane is coming.
2. Flower Pot, or Missile?  During a hurricane, deadly force winds can turn everyday, harmless objects into weapons.  Make sure all loose objects around your home are either fastened down firmly, or brought inside.  Consider going around your home now (before we hit hurricane season fully) and make a list for yourself of everything that will need to be brought inside in the case of a storm.  This includes outdoor toys, bicycles, planters, grills, umbrellas and patio furniture (this depends on size/weight), etc.  If it can be moved, it probably needs to be brought inside.
3. Toxic Situation.  Make sure all chemicals such as cleaning products, pesticides, paints, etc. are at a high level in your garage or storage area.  If these products are hit by flood waters, they can be spread throughout your home and expose you to dangerous toxins.  For extra precaution, you can store these things in airtight, plastic tubs in the case of a storm, and then place them up high.  This ensures that if water DOES reach them, they will stay dry and contained.
4. Early Harvest.  If you have a garden and know that a severe storm (such as a hurricane) is eminent, you need to harvest as many vegetables, fruits, etc. as you can.  If and when flood waters reach them, they will have to be discarded anyway, and that's if there are even any left after the winds die down.  You are better to harvest a little early and stand a chance of using your produce rather than letting it go to waste!
5. Know the Rules.  Make sure you are caught up on all protocol for garbage collection and storm debris collection after hurricane situations.  Counties vary on the allowance of what can be picked up at one time, what they prioritize, etc.
We hope this will help you feel a little more equipped to handle any hurricanes that pop up here in Polk County this season!  If you want to make sure your lawn, shrubs, and trees are in their healthiest shape to withstand any storms thrown their way, give us a call.  We offer a wide variety of treatments that will keep your vegetation free of pests and healthy all year long!  Country Boy Pest Control is ready to help you battle this hurricane season!