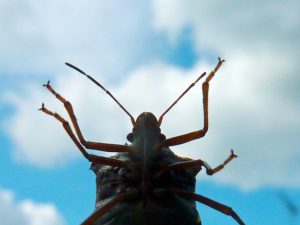 Maintaining and caring for your lawn can be time consuming and, especially during the hot summer months, a bit of a hassle. Not only do you have to worry about water (too little? too much? right time of day?) but you also have to monitor soil nutrient levels thanks to excessive rain, mow more frequently, and plan out your fertilization treatments for the upcoming Fall season. However, nothing is more frustrating when working in your lawn than seeing brown patches pop up for seemingly no reason at all. It's easy to panic and think that re-seeding or re-sodding is needed as the first step, but in reality, you can probably get your grass back on track if you quickly identify and treat the problem at hand. Here are 4 of the most common lawn issues we see from week to week, and how you can fix them:
Pet Potty problems. If you have a pet, chances are you let them out into the yard more than a couple of times a day to use the restroom. Unfortunately, pet urine can actually be bad for your lawn, and could be the reason for those round, dying patches of grass. To fix this, consider having a special area set aside where you walk your pet to go to the bathroom (like behind a flower bed or somewhere inconspicuous) and avoid highly visible areas like the middle of the front yard when it's time for them to potty.
Sod webworms. Sod webworms are a common pest issue in Central Florida, and they can wipe out large patches of your grass in a short amount of time if left unchecked. They suck nutrients from your grass, leaving dying, brown areas behind. These are most easily remedied with professional pest control treatments to avoid large-scale damage to your lawn. Fortunately, we can tackle this issue for you!
Chinch bugs. Another common Florida pest found in your grass are chinch bugs. These little guys zap moisture right out of the blades of grass, meaning your lawn begins to shrivel up and die quickly. Chinch bugs can be tricky, and again require professional treatment to efficiently and effectively remove them from a lawn. County Boy has chinch bugs covered, and our extensive experience means your yard won't have to suffer.
Lack of air. Everyone knows the importance of water and nutrients for your lawn, but what about air? Compacted soil means that your expensive fertilizers and continual watering won't be absorbed by the grass, resulting in an unhealthy lawn (and waste of money for you). Aerating your lawn means all of your efforts can go directly to the roots of the grass, making it strong and helping it grow all year long. Aeration services are available through Country Boy, so give us a call and find out what type of system would be best for your yard.
If you're facing any of the issues above, or have pests bothering you inside your home, we are here and ready to help. Polk County residents know they can trust us to offer the very best in services at affordable rates. Our expert technicians offer on-the-spot estimates and can even come out for those unfortunate pest emergencies, so you're never left to handle the issue alone. We're here and ready, so pick up that phone and give us a call!