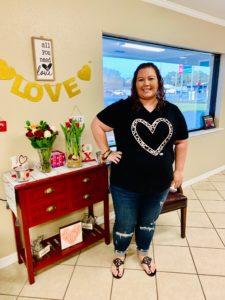 Country Boy Pest Control is proud to have served Polk County with top quality service for this many years, but we feel the need to make sure you know, our staff is why we have the reputation we do today. Without our qualified technicians and office staff, we wouldn't be successful, because they are truly the backbone of our business. We want to give each of them their time in the spotlight, and this month, we invite you to get to know Crystal Rusticus, one of our office staff members for almost 13 years. If you've called Country Boy (or have been called by us) you've probably heard her friendly voice over the phone, but there's more to her than answering calls!
How long have you worked at Country Boy Pest Control?
I'll have been at Country Boy 13 years total in November. After 9 years, I left for a year and a half to be a stay at home mom, and then came back. Still filled in, even when I left to stay at home with my 2nd child.
What do you enjoy doing when you are not at work?
I enjoy spending time with my husband and two sons! My favorite thing in the world is being with them, no matter what we're doing. Just being with them and with family is the best and it brings me joy!
What is the craziest place you have visited?
The craziest place I have visited would have to be Key West. We go every year! 😁
What is the funniest thing your boss has ever said or done?
It would have to be the Valentine bouquet scenario. We had a bouquet of Ghirardelli Valentine chocolates on display. They were supposed to be a prize for the tech who got the most sales that month. Ron didn't know about it though, and thought the candy was put out for customers and employees. One day he came in after lunch and was trying his best to get the candy out of the bouquet. My coworker Mrs. Robin and I were too nice to say anything but Matt came in and finally explained to him what the bouquet was for. He found candy elsewhere!
Anything else you want to add?
I try my best to not only work hard at my job, but I put my heart into it as well! Making customers happy and developing relationships with them is important to me. Having them ask how my husband and kids are by name, when we've never met in person (only through Country Boy and speaking on the phone) is a great feeling. I love it so much!
We know you all appreciate Crystal as much as we do here at Country Boy Pest Control. Thank you for being such an important part of our team Crystal! Our office just wouldn't be the same if you weren't part of it.