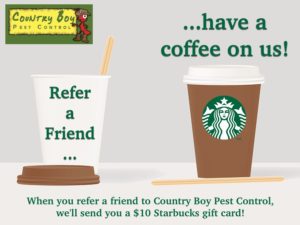 Country Boy Pest Control is built on offering quality service and affordable pest management to residents in and around the greater Polk County area. As our business has grown over the years, we remain acutely aware that our success is owed entirely to our customers and clients. That's why we make an effort to let you know how much we appreciate your loyalty by not only offering routine giveaways and specials, but also by rewarding you for sending new customers our way.
Our newest refer-a-friend program is our way of saying "thank you" to you when you give our name and number to a friend or family member looking for pest management for their home or business. If they become a customer, you get a free $5.00 gift card to Starbucks Coffee, no questions asked. There is no limit on how many times you can earn this reward, so tell everyone you know! How will you use your card? A few favorite ideas...
A tasty way to grab a last-minute breakfast when you're running late headed back to work. Those slower mornings at home during quarantine got us all out of schedule, right?
A fun low-contact date night with your sweetheart. A cup of coffee or favorite drink and chatting under the stars with the windows down. Can't beat that kind of romance!
A pick-me-up after a long day of teaching your kids, keeping your boss happy from home, and making sure dinner will be ready on time.
A way to bless someone else you know. Paying that free gift card forward will make you smile, and will give a little bit of happiness to someone else too!
We hope this inspires you to get out and spread the word about our newest referral program, and we hope you'll take advantage of it. We love getting to say thanks to all of you, and we look forward to adding more members to the Country Boy family as the business continues to grow!