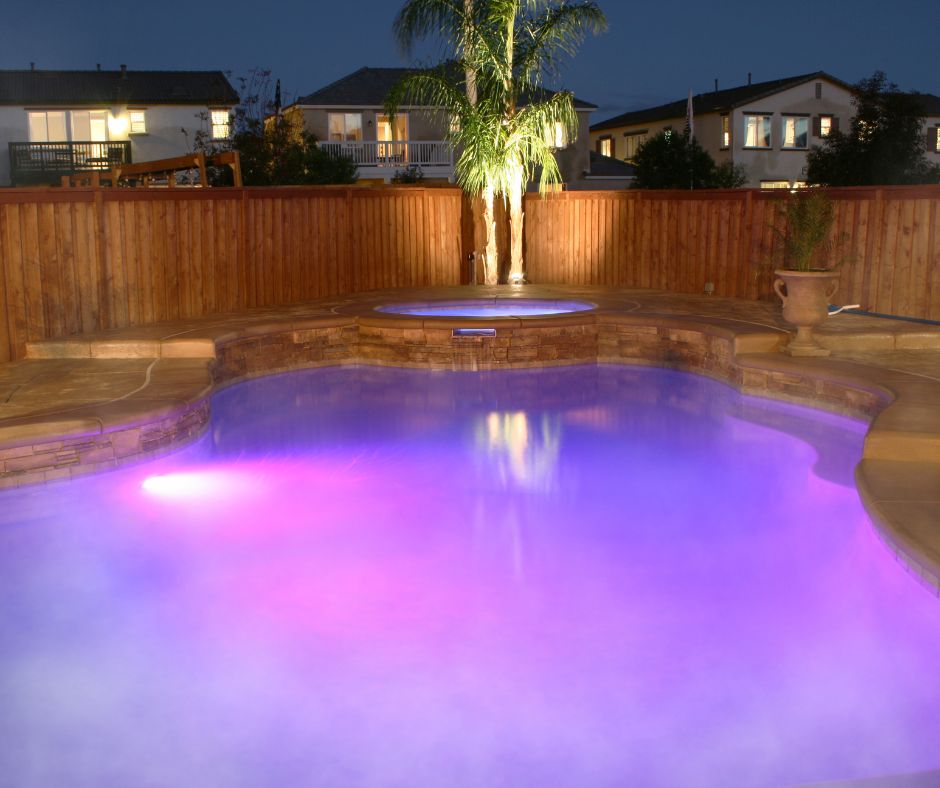 Holidays in Florida always seem to look a little different. Christmas? Sometimes we wear flip-flops and grill out. Thanksgiving? Seafood is a great alternative to turkey! We're used to doing things our own way here. Halloween is around the corner, and it's time to start thinking about how you'll be celebrating. We might not have Fall leaves or chilly air, we DO have plenty of swimming pools! Did you know, there are lots of ways to make your pool area the hottest party spot in the neighborhood for a scary bash, and you don't have to try very hard or spend much cash to make your pool "spook-tacular."
Here are our favorite ways to bring your pool into the festivities...
Floating Decor
There are SO many possibilities when it comes to items you can float in your pool for decorative purposes. If you want to go all out, carve pumpkins, and float them in your pool after dark with tea-lights flickering inside. Floating jack-o-lanterns take things to a whole new level! If you want something a little easier (and cheaper), opt for the plastic pumpkin buckets available at most stores around the Halloween holiday. Go with all orange for a traditional look, or mix it up and pick an array of colors.
For a spooky glowing effect, blow up balloons with glow sticks inside. Float them in your pool as "glowing orbs." Give it an extra dose of creepy and put glow sticks inside of inflated rubber gloves for glowing hands to disperse in your pool.
Party "Guests" That Won't Eat Much
Plastic skeletons are a classic Halloween decoration, but did you know you can kick up the scary fun (and possibly laughs) by taking your skeleton poolside? Pose plastic skeletons in patio lounge chairs with sunglasses, sun hats, drinks, etc. You can even prop one in or on a pool float and send it sailing in your pool. Guests will get a kick out of the newest "swimmer" at the party. The best part? These guests won't eat all the snacks!
Go Extreme
If you're willing to go farther (and deal with a little more pool cleanup) you can opt for these fun ideas to really impress your guests!
Pool dye won't stain at all, but with one dose you can have a pool full of red "blood", or green "swamp water." After 3 or 4 days, the dye gets filtered out of the system and you're once again left with sparkling blue water ready for swimming.
Fog machines or dry ice are another creepy pool effect that can really amp up the spooky vibe of your party. Place around the exterior edge of your pool and crank up the Halloween tunes, and you'll officially have the best party on your street.
We hope this has sparked your imagination and given you the ideas to turn your pool into the center of the Halloween bash this year! Know what you DON'T want in your pool to creep out partygoers? Bugs. Bugs floating in your pool isn't a good look, and while it might fit in on Halloween, the rest of the year it's a major turnoff when you, your kids, or friends want to take a dip. Spiders, roaches, and mosquitoes are a major bother when you want to enjoy your pool. Lucky for you, Country Boy takes care of them all, leaving your pool pest-free and ready for year-round swimming. After all, that's what we do in Florida!
Happy Halloween from Country Boy Pest Control!