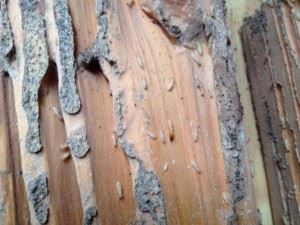 When you think termites, you likely picture dry wood termites, which are the standard invasive insects we are accustomed to, and who live in, and eat, the wood making up the internal portions of our homes. The termite world, however, has an underground secret (literally) that could destroy your home from the ground up before you have a clue anything is going on. Enter: the Subterranean Termite.
Subterranean termites, common in the southeastern portion of the U.S. (including Florida), like to feed on wet wood, which means they are fond of studs and other portions of your home that have been exposed to moisture and are therefore damp. These insects live in the ground (thus the name "subterranean") and come out to enjoy feasting on your home's structure before retreating into their tunnels again. Typical signs of these invaders are mud tunnels, which they build to get from their underground home to the damp wood on which they like to nibble. These tunnels protect them from predators and from drying out, and allow them safe passage to their food source.
Unfortunately, subterranean termites have flourished here in the state of Florida, and here in Central Florida, are being studied extensively by students at the University of Florida. Thanks to our high humidity and moisture levels, extensive amount of rain, and plentiful damp wood thanks to various lakes and bodies of water, subterranean termites are right at home in Florida, and Polk County is certainly no exception. UF experts have shown that over half of southern Florida's structures will be at risk for subterranean termite damage by 2040, stating in their article (found here):
"...subterranean termites cause about $32 billion in damage annually, worldwide, when you combine harm to structures and measures to control them. Now, University of Florida Institute of Food and Agricultural Sciences researchers predict these pests will dramatically increase their impact in the next two decades in South Florida and possibly across the nation."
Subterranean termites could prove to be catastrophic for your home if they go unchecked for any period of time, and once you have them, elimination has to be swift in order to save a structure. Prevention is the key, and only professional pest control services can offer that kind of protection. Country Boy Pest Control offers routine checks of your home for termite activity of all kinds, and then customizes a prevention plan for your unique property. If termites are ever found in your home, we can work with you to get rid of the termites, determine what type of repairs need to be made, and then help you prevent future infestations. We are here for you whether termites hit from above, or below. Give us a call for your on-the-spot estimate!